Hi everyone ok so I know I promised a post yesterday but I completely forgot that it was my GBFF (gay bff) boyfriend's birthday and we went to celebrate at a bar in WeHo (west hollywood). I am sooo exhausted because I left around 12:30am and got home almost at 1 am and had to wake up to go to work at 6:30 am. Ugh it was fun but work was hectic as usual. Now im so sleepy but I know I have to do this and another one later tonight. Ahhh guys all I wanna do is take a nap haha. I love naps by the way but I rarely get to take them.
Ok enough rambling as usual. So today I have Forever Polished by Ashley. I bought her set of holographic polish during black friday (I know its been a while) but they were on sale half off original price. The polishes are: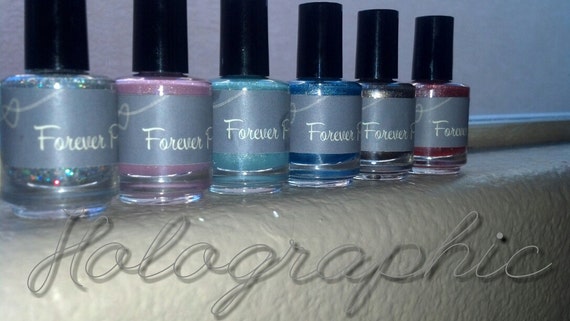 (photo from her etsy shop)
The set includes
 Moon Shine (fave)
Miss Pink
Minty
Something Blue
CoCo
Cherry
I havent gotten a chance to swatch all of the polishes but I will soon. Megan from twolacqueredgirls reviewed one of the polishes from this collection as well which happens to be my 2nd fave polish of this line. So today I used CoCo. Her polishes have good formula. The formula on this one is so smooth just look at it!
Ashley did a good job with these polishes. This is two easy coats and I should tell you it can be a 1 coater!! yes really!  it is a non linear holographic polish. It is a dusty/ash brown and the holographic glitter is very subtle but sparkles so nicely in the sun.
However on this polish I added Moon shine on top. One thin coat and it just made this polish pop so much more! The picture above shows the sparkle and look at the bottle of moon shine! you see the holo moons? ah amazing! Moon shine is a little thick and takes a little extra dry time but its totally worth it for this holo goodness.
I know the skin around my fingers looks so shiny but its just my cuticle oil! During winter my hands get extra dry and I need to help moisturize them as much as I can. Overall this polish is so pretty and it definitely worth it! She sells the set and individually but right now its out of stock and I dont know when she will be restocking them but you can always check out her etsy shop and see when she will restock if she does this collection or also on instagram. I would recommend this collection if you can get your hands on it.
http://www.etsy.com/shop/ForeverPolished
@ashleyspolish
-LOVE DITYRICHHH